Eliminate everyday bad odors
Pikoc scented mists bring freshness and softness to your everyday life. Use them as a linen or home fragrance. Formulated with a natural odor neutralizer, they capture unpleasant odors such as tobacco, frying, or perspiration.
✓ 98% natural ingredients
✓ Does not pollute your interior
✓ Made in France
Discover their powers
They talk about us
Instagram - March 2022
"I have been looking for years, in vain, for a product for my interior and my textiles. And here it is! Bravo for this mist which smells so good and whose smell is soft and pleasant.."
Website
"The mist is my new ally as soon as I take a jacket out of my closet, it's incredible for giving it a clean look"
Instagram
"The smell is delicate. These mists are perfect for my interior. I use them on my sofa and cushions to refresh them"
A natural and biodegradable mist
With over 98% of natural origin, the ingredients in our formulas are meticulously chosen to have the least possible impact on our planet and our health. Our products contain no preservatives, antioxidants, or colorants to ensure they are gentle on even the most sensitive skin.
By prioritizing natural ingredients, Pikoc products are non-toxic and biodegradable.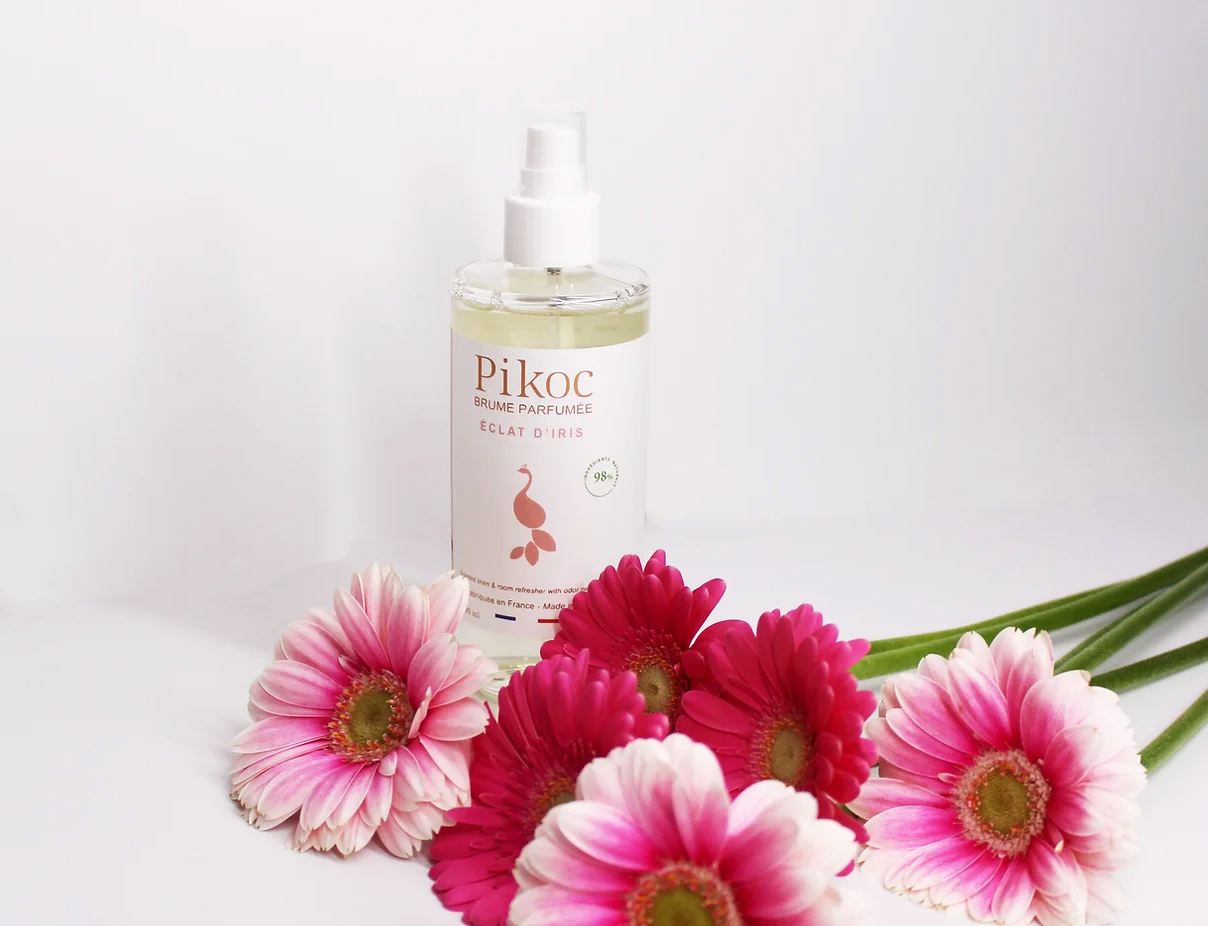 Sumptuous fragrances
By embracing the codes of exceptional perfumery, Pikoc disrupts the world of home products.
As trained perfumers, we are committed to offering fragrances of unparalleled quality.
We aim to transport you to an uncharted realm in household products: pleasure.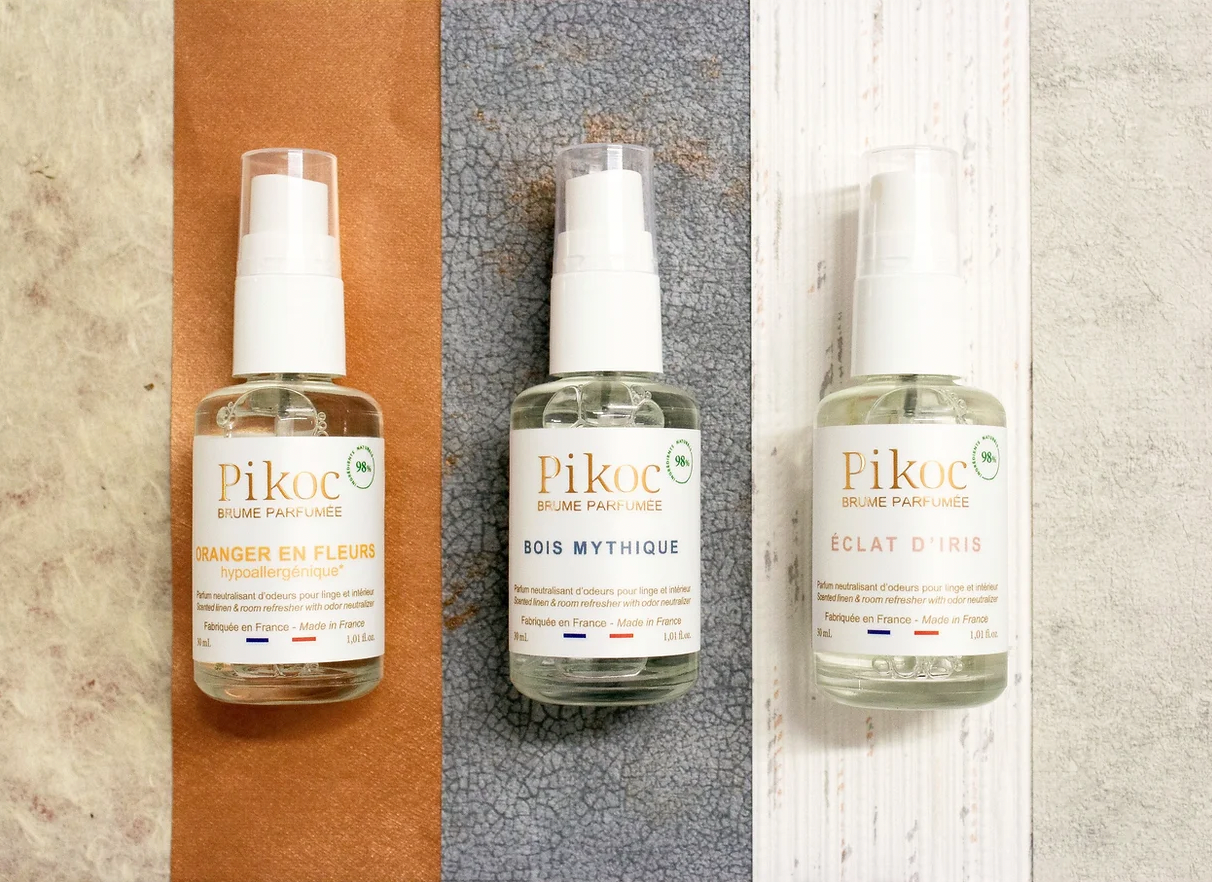 A short and clean formula
Pikoc's mists are formulated with water base. This alcohol-free formula ensures that they are gentle on your fabrics and skin. Use them as a linen fragrance or for freshening up your home.
Our formula focuses on the essentials and is biodegradable.
With limited volatile organic compounds, Pikoc mists won't pollute your indoor spaces.
In two size
Our mists are available in two sizes to cater to your needs and various moments in life.

The 200mL home size is designed to refresh your entire living space and wardrobe. Use it everywhere – sofa, bed, kitchen, dog's basket, closets...

The travel-sized version allows you to take it with you wherever you go, providing a refreshing touch throughout the day. Whether it's between appointments, after a meal at a restaurant, or in your car...
To reduce the environmental impact and promote French craftsmanship,
we are proud to present our products MADE IN FRANCE.
Éclat d'Iris
Do you love soft and musky notes? Éclat d'Iris is perfect for you.
Its powdery and fruity notes bring comfort and sweetness to your laundry. The iris note enhances the elegance of this fragrance.
A true cuddle.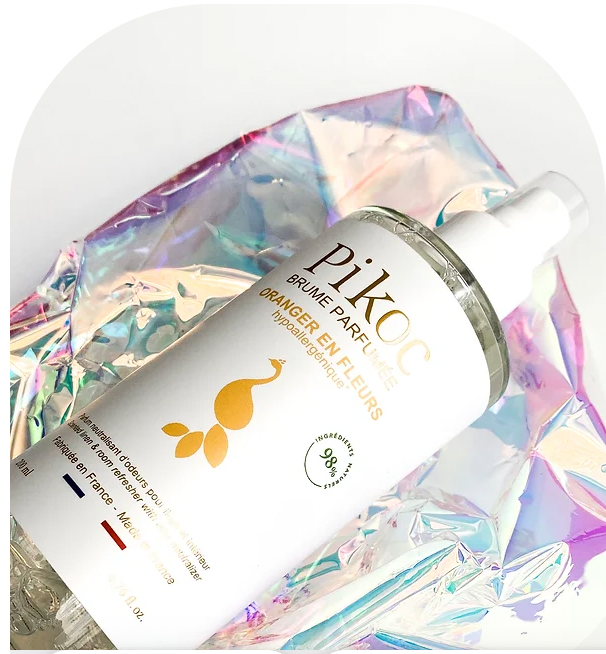 Oranger en Fleurs
Lovers of orange blossom will be captivated by this fresh and sunny interpretation.
The green notes of bergamot and the amber base transport you to the south for a touch of warmth. An addictive fragrance.
Bois Mythique
In search of a powerful fragrance? Bois Mythique delivers on its promises.
The freshness of pine and the strength of cedar bring a renewed scent to your laundry.
The reassuring and elegant aroma will accompany you throughout the day.
They talk about us
Instagram
"As soon as received, immediately sprayed on my laundry. I closed my eyes and I saw myself again in Tunisia during the orange blossom festival. What happiness."
Website
"This mist is just magical. The smell of tobacco on my clothes is not very pleasant and with this mist, everything disappears and I feel like everything is coming out of the machine. I recommend 100%"
Website
"Already addicted to the detergent version, this mist perfectly refreshes my laundry and perfumes my home. Essential for my winter sweaters that I don't really like to wash for fear of them getting damaged"
You too, change your daily life
Pikoc perfumed mists bring freshness and softness to your daily life.
Use them generously as a linen mist or home fragrance without hesitation!
See all